Digital pathology solution, the last piece to a complete digital pathology workflow
Slide take-outs & returns reduced, while overall work efficiency increased
Why INFINITT Healthcare: seamless interface with EHR, advanced imaging technology, and strong maintenance support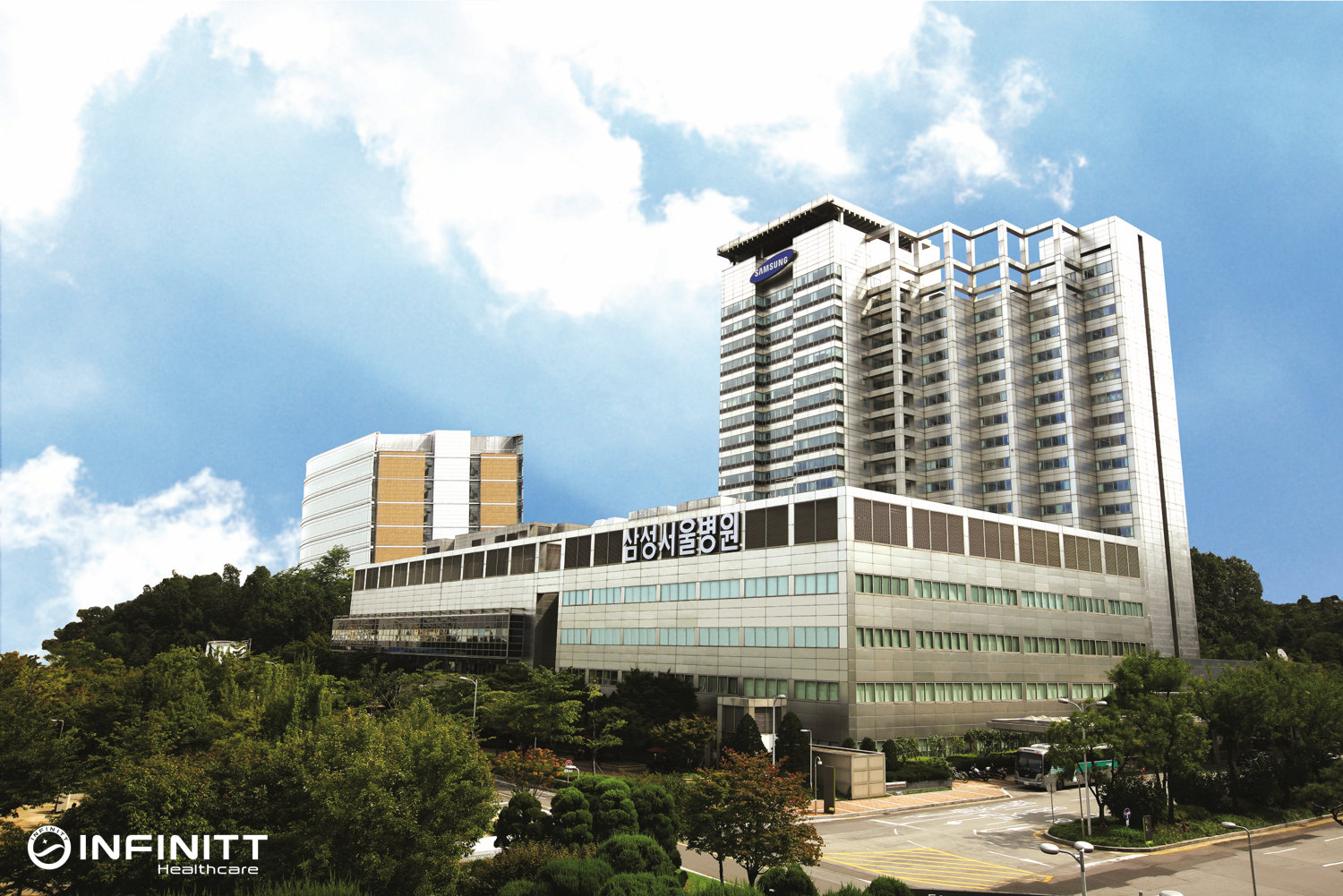 Samsung Medical Center (SMC) is one of the leading general hospitals in Korea, equipped with more than 2,000 beds. SMC's vision is to realize "medical innovation for patient well-being" through its top-class medical specialists and advanced medical systems.
SMC's pathology department was the very first in Korea to adopt a digital pathology solution back in April, 2019. We interviewed two professors from the pathology team about the adoption process and the reasons for choosing INFINITT Digital Pathology Solution. Professor Sang-yong Song has been at the forefront of the adoption process, and Professor Kee-taek Jang is the current head of the department and the main operator of the solution.
Q. SMC is the first hospital in Korea to implement digital pathology. What sparked your interests in digital pathology and eventually led to the adoption?
Professor Jang The traditional method of managing and reading from glass slides had many limitations. The storage space for slides was limited compared to the increasing number of pathology exams. And it was very time-consuming and inefficient to find and review the slides for reading or research. So I took an interest in digital pathology as a possible solution to our problems.
Professor Song I began to really think about the future of pathology when I undertook the position of an executive director for the Korean Society of Pathology (KSP) in the early 2000s. I felt the field of pathology was slowly losing momentum as it relied too much on microscopes and had little interactions with other disciplines. Then I had the opportunity to attend a symposium on the future of pathology in Chicago, United States. Seeing what the world-class American pathologists were discussing there, it became clear to me that the future lies in digital pathology and molecular pathology. So I began to look into digital pathology myself. Afterwards I became the director of planning and education for KSP, and I took the opportunity to replace the glass slides used during monthly seminars to digital slides. It was a meaningful experience, because we didn't have any difficulties using digital slides to observe, analyze and diagnose even the most complex cases.

Professor Jang I was quite impressed with the keynote session by Google at the AACR (American Association for Cancer Research) conference in 2018. It was about how artificial intelligence helps pathologists read faster and more accurately. They also introduced an AI microscope enabled with augmented reality technology. As a pathologist looks through the microscope, it would analyze the tissues in real time to locate any tumors with high probability of being malignant. Since then, I became more interested in digital pathology, knowing that it's a prerequisite for AI research.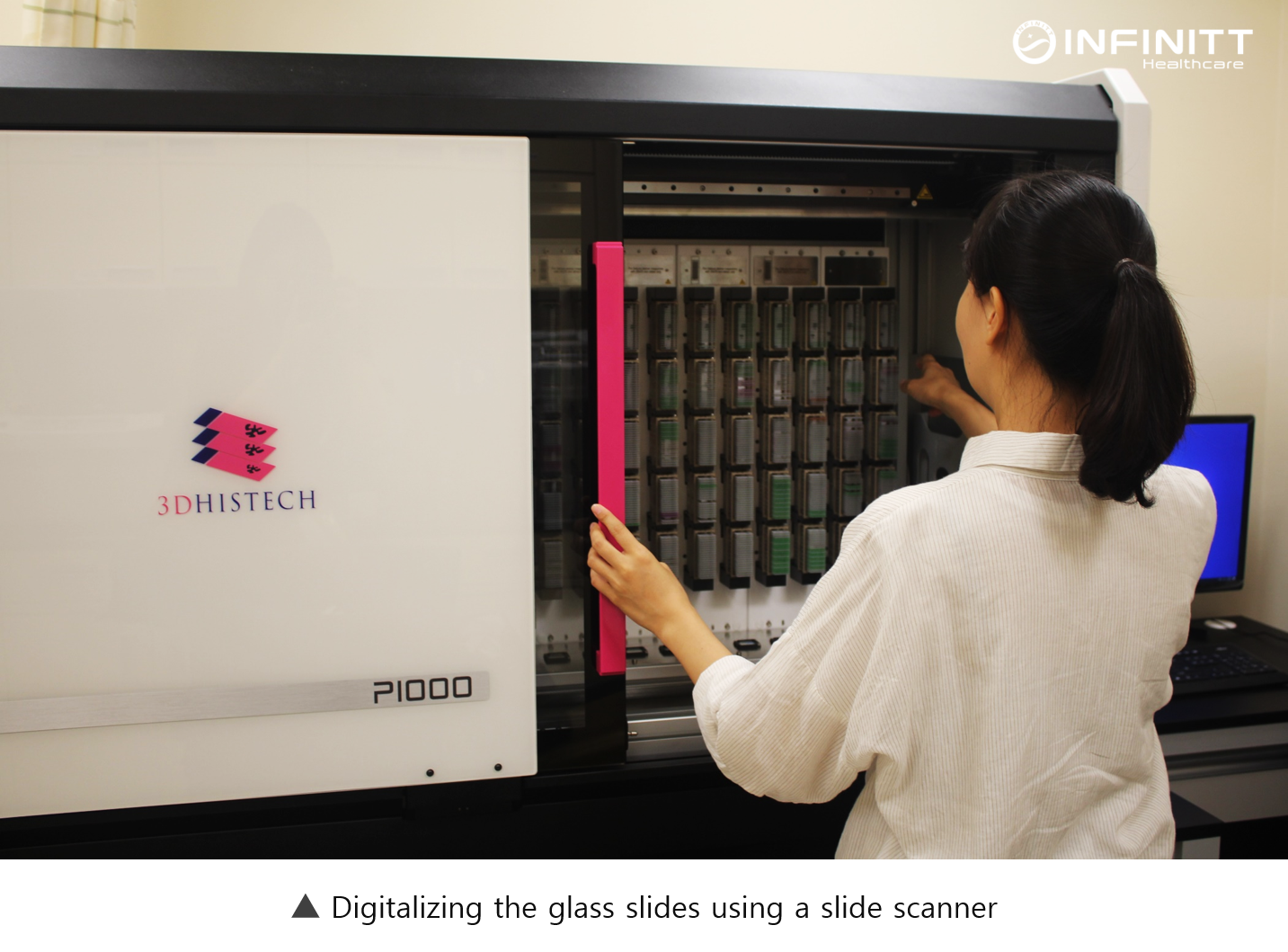 Q. What was the main purpose behind adopting the digital pathology solution?
Professor Song If a slide scanner is the muscular system of your body, a digital pathology solution is the nervous system. It takes in and processes information to your brain and spinal cord so the body can react and function accordingly. This means that the scanner alone cannot make up digital pathology, and must need a solution to connect to the hospital network. Our goal is to establish a complete digital pathology system, and to use the digitalized pathology data for AI research, multidisciplinary care and collaboration.
Professor Jang We adopted the digital pathology solution so we can better archive, manage, read and utilize the slides based on a digital workflow. In particular, we can read more accurately with a solution because it helps catch details we might miss with the naked eye. This is important because it directly relates to patient safety and satisfaction. Also, our pathology department has plans to move out of the main hospital to an external building. So we need a solution that'd enable remote sharing of pathology results and findings with the main hospital.
Q. Why did you choose to adopt INFINITT Healthcare's solution among others?
Professor Jang We looked at how smoothly it can interface with our EHR. We thought INFINITT Healthcare would be a great fit since they're strong at not only system interfaces but also medical imaging in general. And of course their radiology PACS is quite well-acknowledged in the industry.
Professor Song There are many foreign companies providing digital pathology solutions. But because INFINITT Healthcare is a domestic-based company, they can provide us with faster, more reliable maintenance support. Also, there are more opportunities for us to collaborate with them since digital pathology is at an early stage in Korea.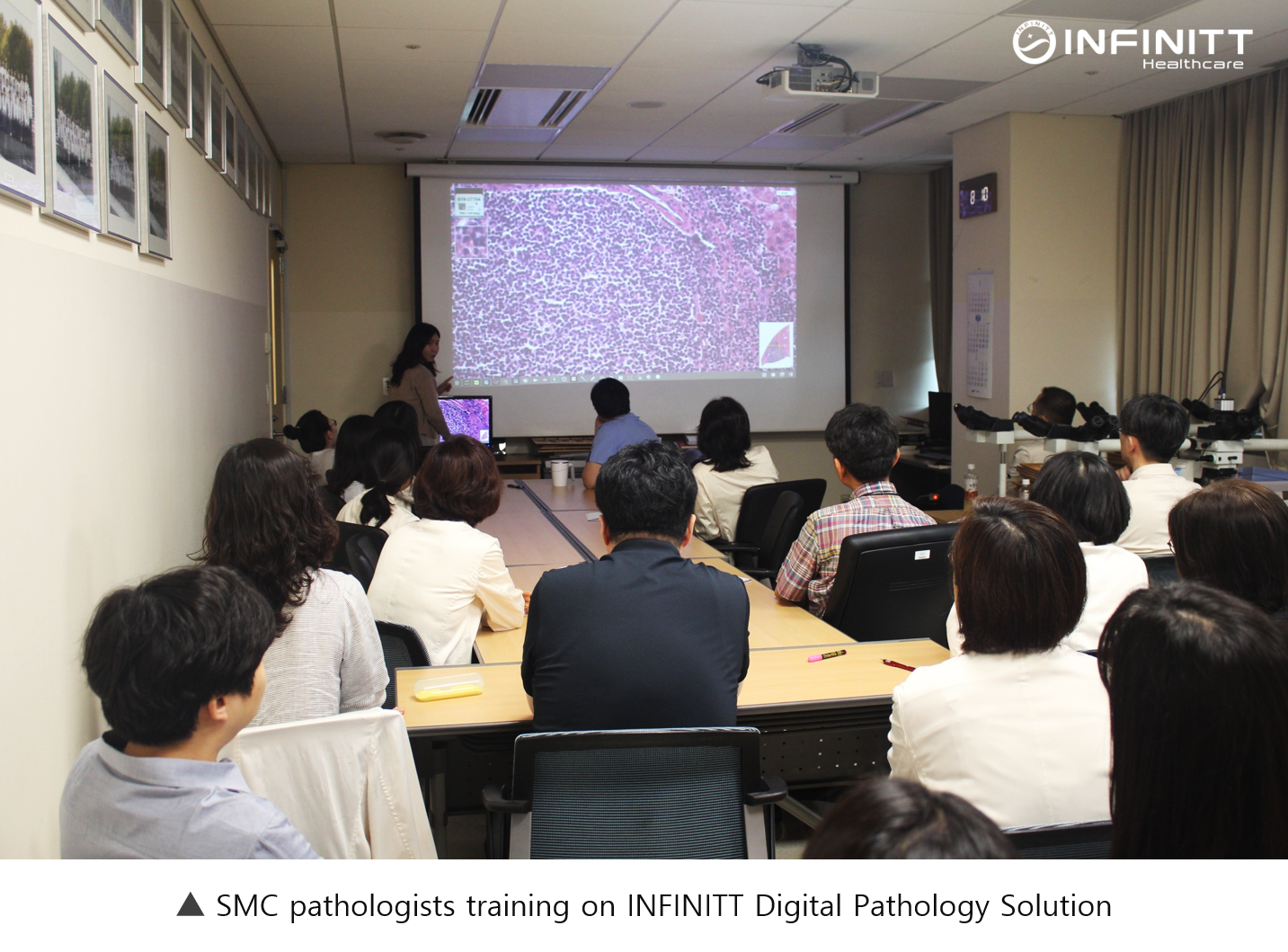 Q. What has changed the most since the adoption?
Professor Jang Overall work burden that went into storing, taking out and returning slides has been reduced. We can easily and quickly look up digital slides on the solution, whenever we need to refer to past slides for reading or research. It's also very convenient during conferences, since we can directly open up and discuss relevant slides together.
Q. There are many pathologists in Korea considering the adoption of a digital pathology solution. Could you offer them a piece of advice as a forerunner?
Professor Song New attempts of any kind are scary and uncomfortable. It's like that feeling you get when you enter a new classroom for the first time in a new school year. However, if microscopic cell observation is the current year, digital pathology is the next. I'd like to say that now is the time we must prepare ourselves for the next year.
Professor Jang Digital pathology has just started out in Korea, so there aren't many references. We're still learning ourselves as well, exploring the scope of digital pathology and gradually expanding its use. I just hope that our narratives and studies at SMC could contribute to the overall growth of digital pathology in Korea.