As radiation is being widely used for the diagnosis and treatment of diseases, concerns surrounding the risk of radiation exposures are also on the rise. A reasonable dosage could save people's lives, but an over-dosage could be detrimental to patient health. As a result, more and more countries are implementing dose management policies to reduce unnecessary radiation exposures in healthcare. In this article, we'll look at the latest regulatory policies of the U.S., Japan and Europe to see how the countries at the forefront of healthcare are dealing with dose management.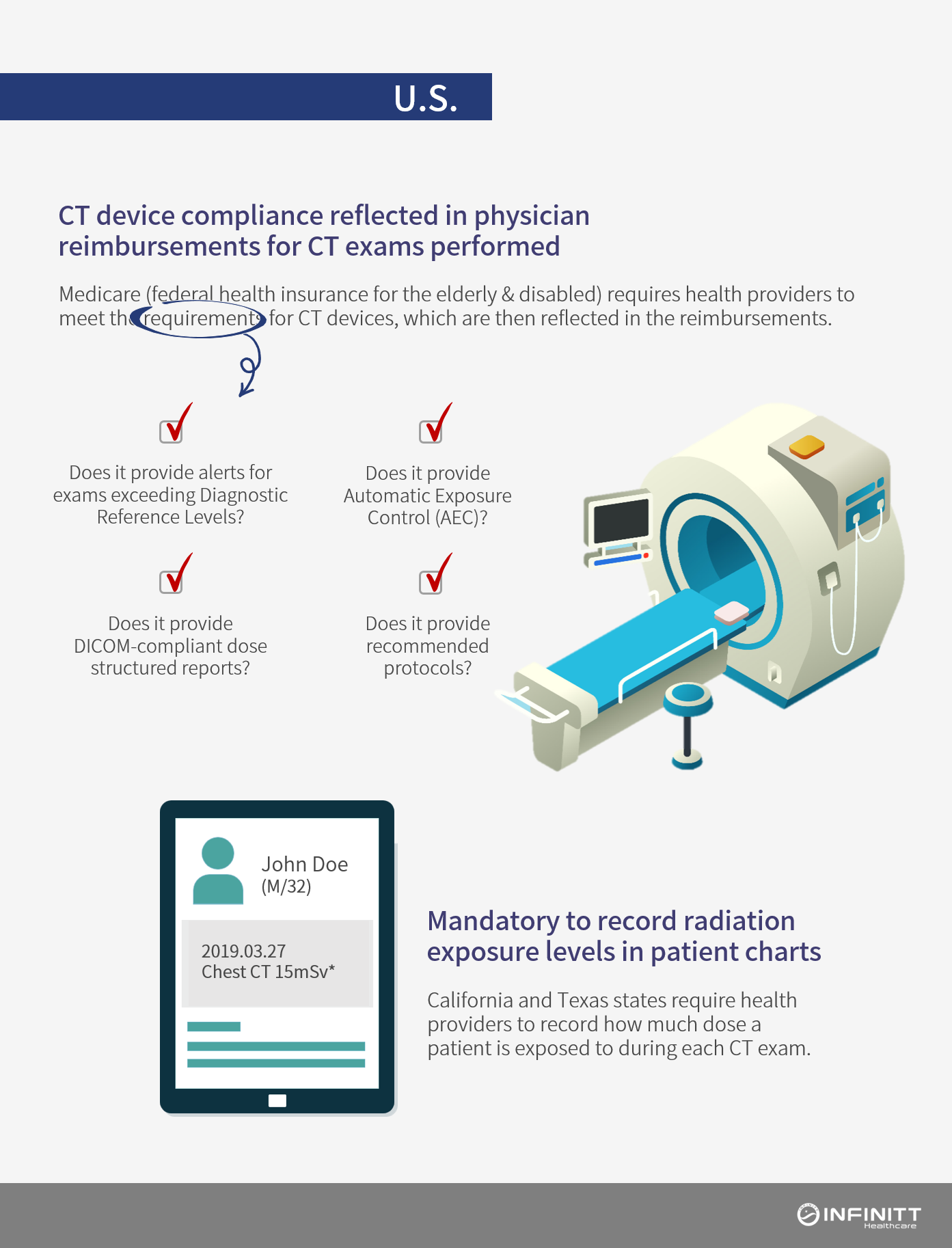 In the U.S, dose management policies are enacted and implemented at both federal and state levels.

Medicare is a federal health insurance program for people over 65 or with disabilities, and it requires healthcare providers to meet the NEMA XR-29* standard attributes on CT devices by reflecting their compliance levels in the reimbursements for CT exams performed. According to NEMA XR-29 standards, CT devices are required to support DICOM-compliant dose structured reports, alerts for exams exceeding Diagnostic Reference Levels, AEC (Automatic Exposure Control), and recommended adult/pediatric protocols.

In California and Texas, healthcare providers are required to record in the patient chart how much radiation dose the patient is exposed to during each CT exam.
*NEMA XR-29 is a regulation from the Protecting Access to Medicare Act of 2014, specifying four standards called MITA Smart Dose based on which reimbursement evaluations are made.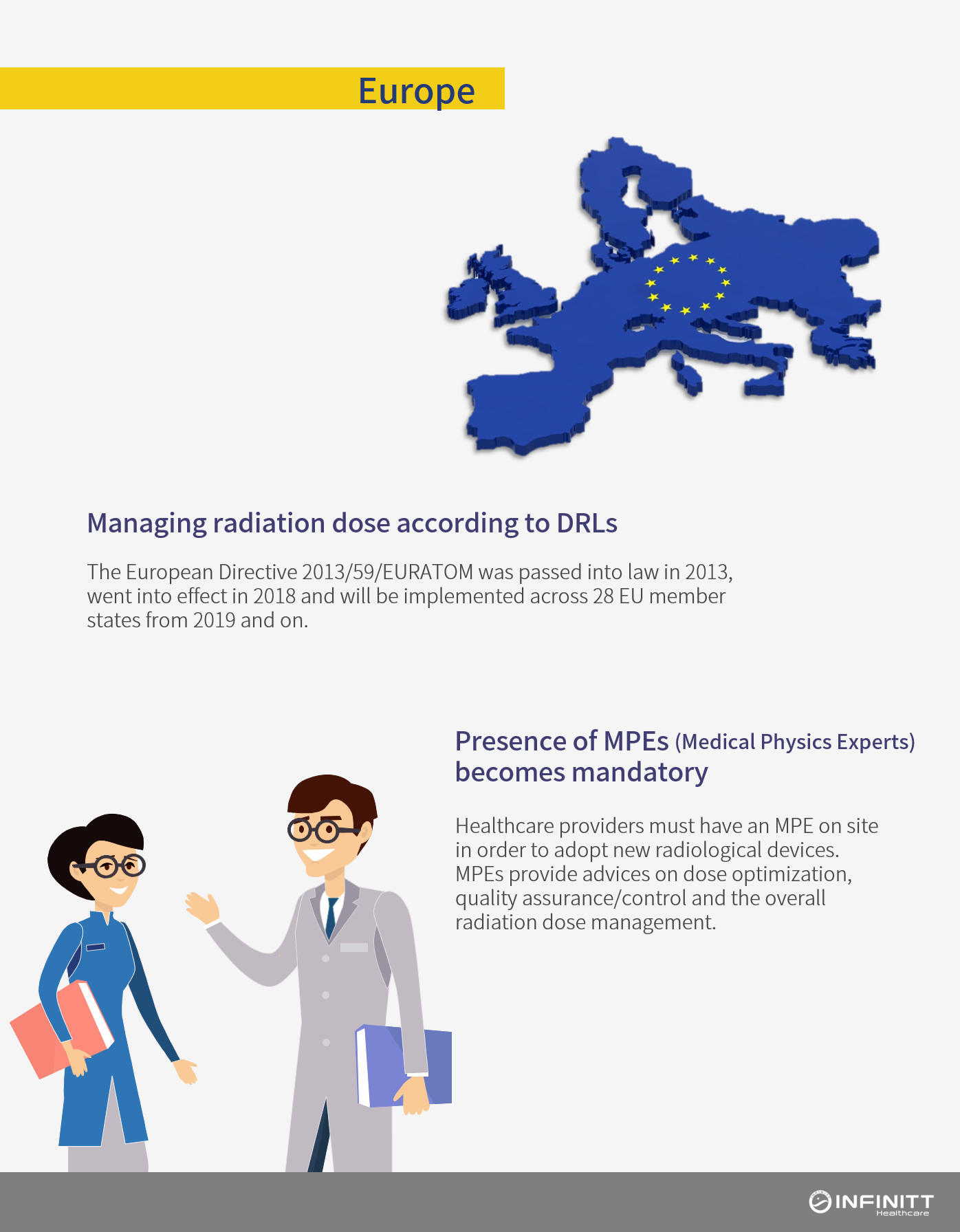 In 2013, European Union (EU) passed the European Directive 2013/59/EURATOM into law. The Directive requires providers to record and manage radiation exposure levels, provide more dose information to patients, and manage radiation dose according to the Diagnostic Reference Level (DRL)*. It went into effect in February, 2018 and will be implemented across 28 EU member states starting year 2019.

Also from 2021, presence of on-site Medical Physics Experts (MPEs) will become mandatory for providers that wish to adopt new radiological devices. MPEs are qualified experts in radiation physics, capable of providing advices on dose optimization, quality assurance/control and the overall radiation dose management.
*Diagnostic Reference Level (DRL) is defined by International Commission on Radiological Protection as an investigation level to aid optimization of protection in the medical exposure of patients for diagnostic and interventional procedures.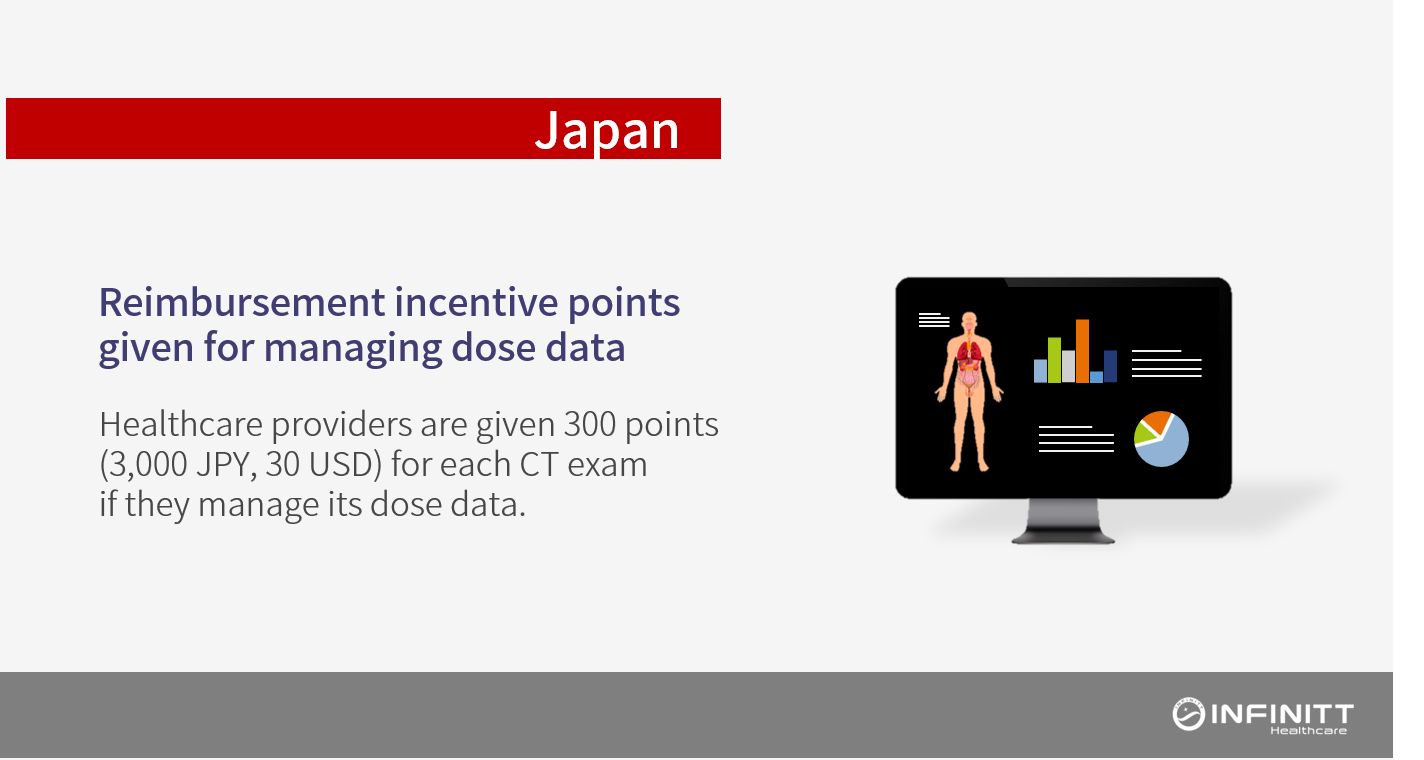 Japanese health insurance system is based on a fee-for-service* model which assigns points for each health service provided and then calculates the total reimbursements by converting 1 point into 10 yen (approx. 10 cents in USD).

In April 2018, the Japanese government adopted a new policy that gives reimbursement incentive points to +400 bed hospitals for managing dose data and optimizing the patient dose. They are given 300 points (3,000 JPY, 30 USD) for each CT taken. The policy is meant to encourage larger-sized hospital to take the lead in dose management.
*Fee-for-service is a reimbursement model that measures the total cost of care by charging fees for each service provided (consultation, exam, hospitalization, medication, etc.)
So far, we've looked at the current status of dose management policies from around the world. Clearly, 'dose management' is no longer a matter of choice but a mandatory requirement. More and more healthcare providers are beginning to adopt dose monitoring solutions so they can manage patient dose information in compliance with the previously discussed regulations. In the next article of the series, we will discuss how INFINITT's dose monitoring solution, INFINITT DoseM, effectively manages radiation dose and brings benefits to both clinicians and patients.