In this final article of the big data series, we will discuss how the medical big data platform, INFINITT Healthcare Platform (IHP), works to create a new healthcare paradigm.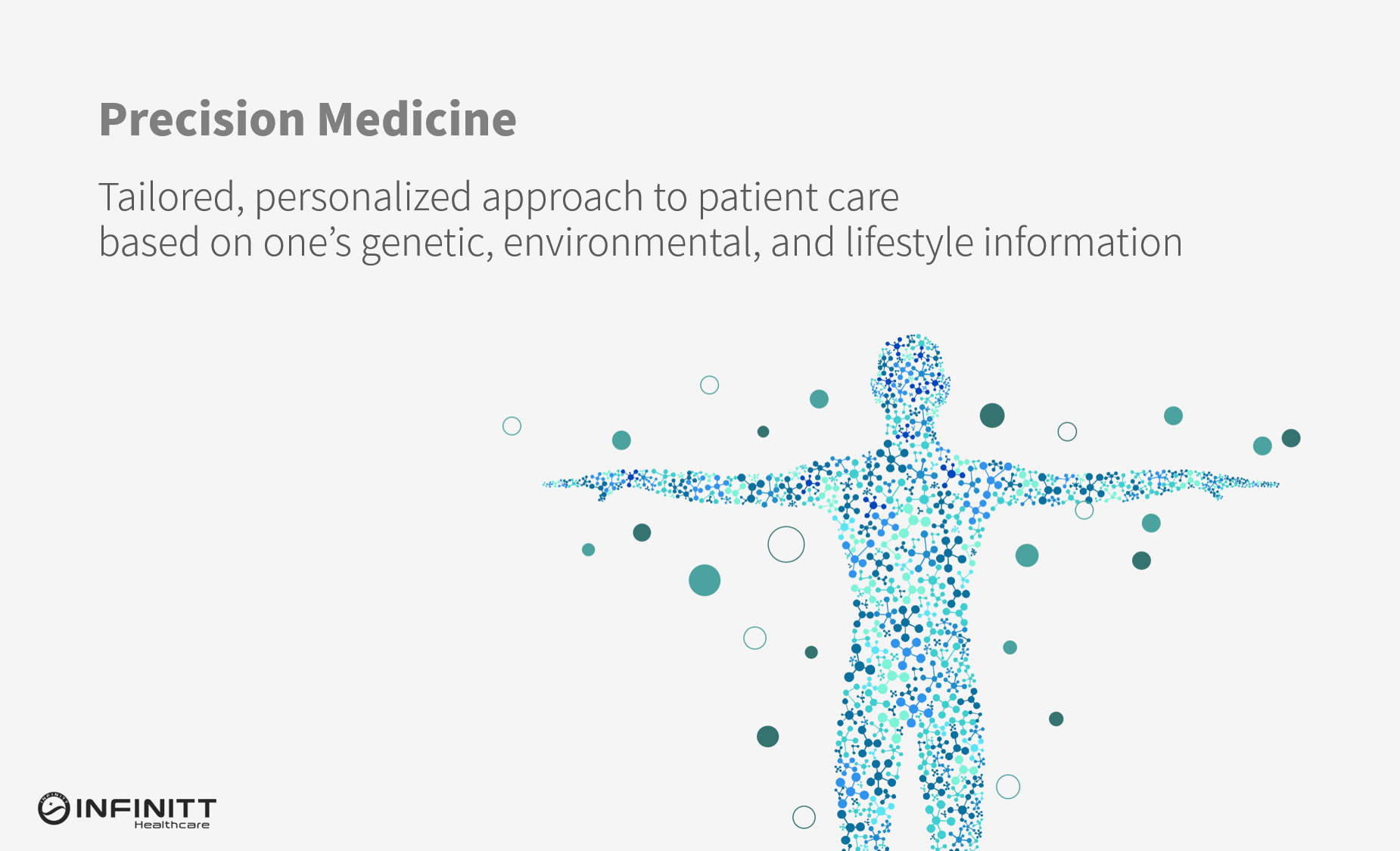 With New Year's just around the corner, experts from various fields are busy discussing keywords of the year. The most buzzed keyword of the year for the healthcare industry would be, without a doubt, 'precision medicine' which refers to a personalized approach to care based on a patient's genetic, environmental and lifestyle information. When properly implemented, it improves the effectiveness of patient care while minimizing the costs—which is precisely what we all want to strive towards.
The first step to realizing precision medicine is: to collect all patient data.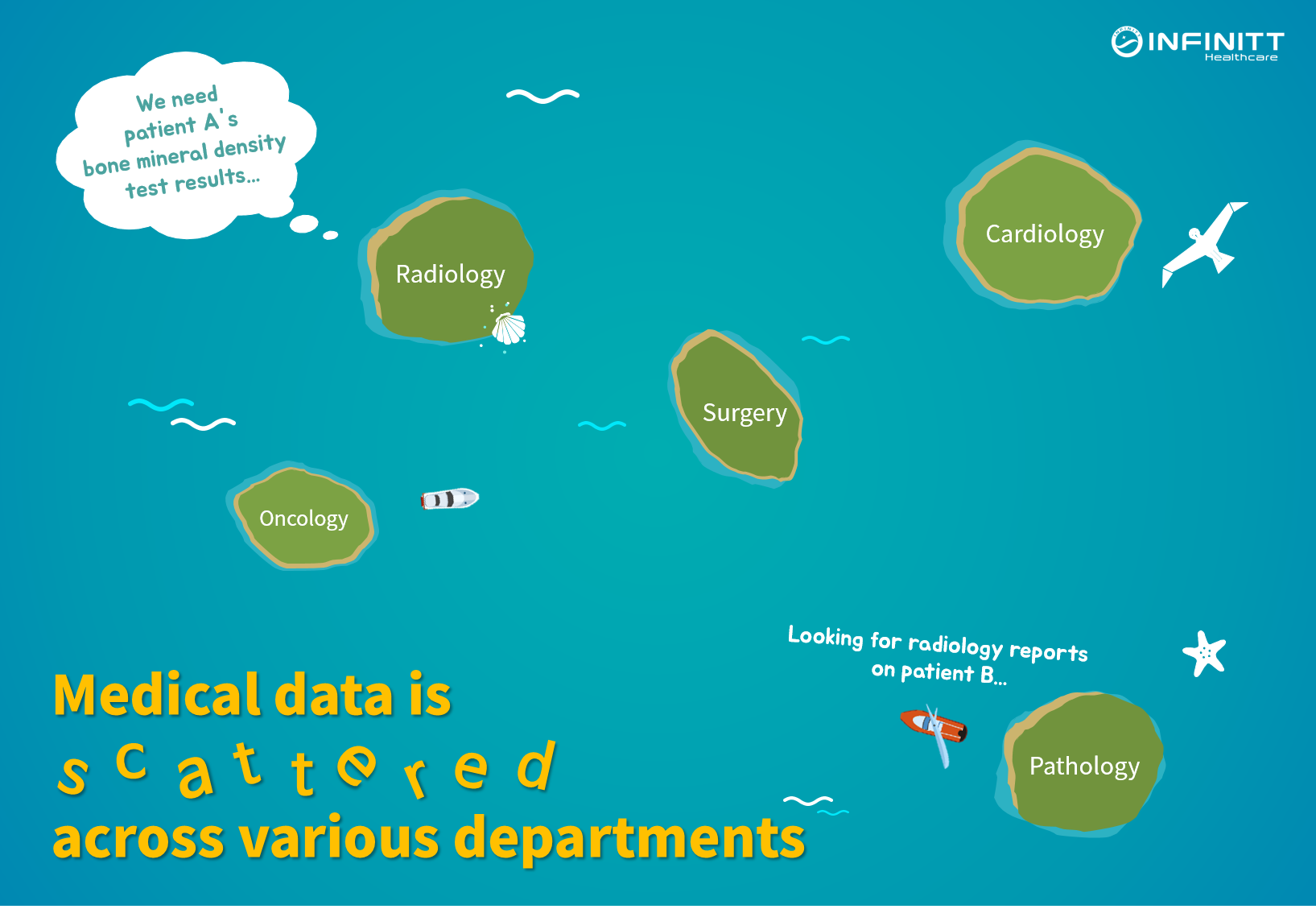 But in most medical facilities, a patient's data is stored separately in different departments. Also, there are thousands of formats that you can save the data as, depending on the medical device and information system being used, which is likely to be different for each department. This makes it even more difficult to bring together all data that belongs to the same patient.
So, how can we collect all the data we need?
INFINITT proposes a solution with its medical big data platform—INFINITT Healthcare Platform (IHP).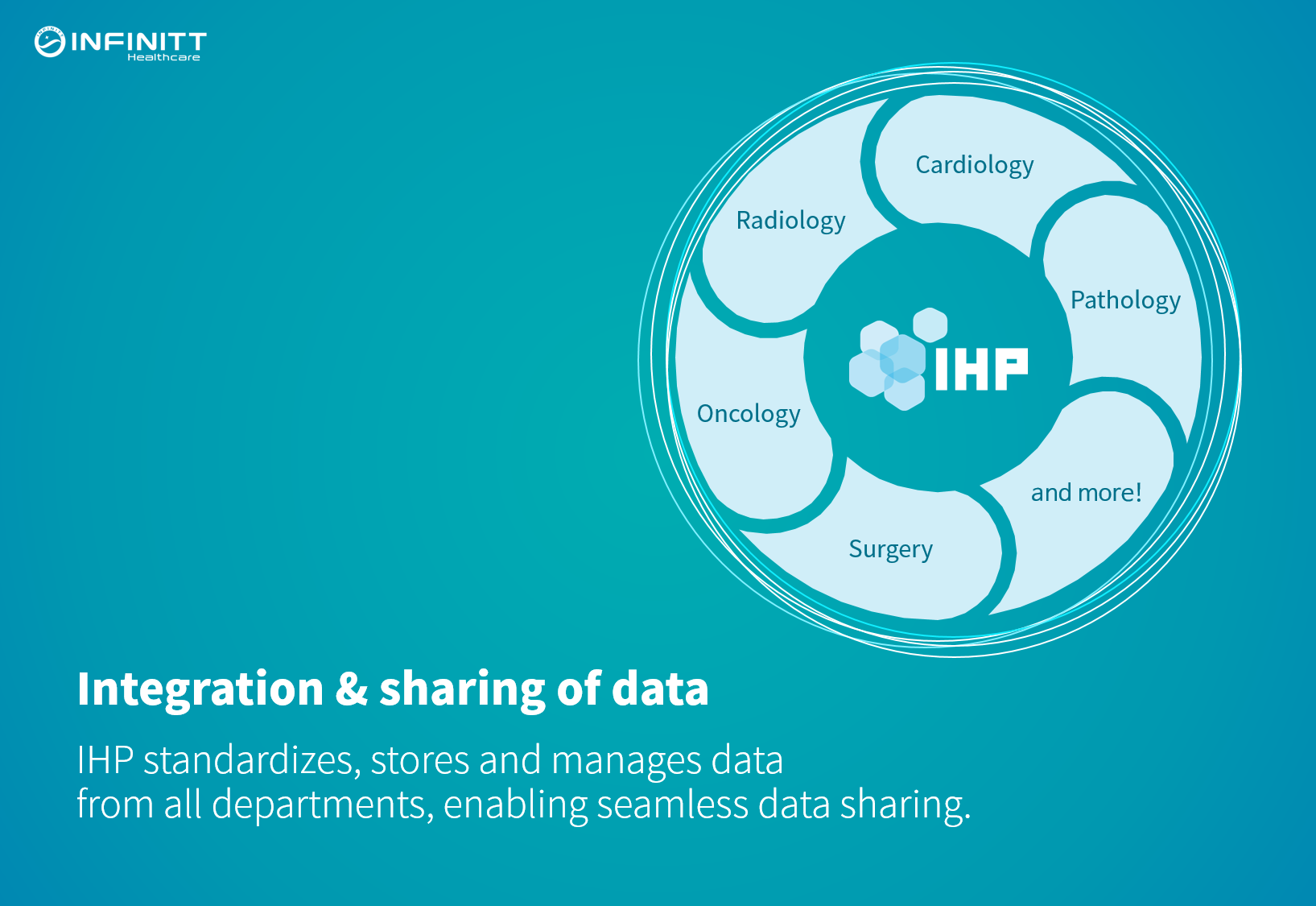 IHP integrates the scattered patient data by storing all data in accordance with international standards (XDS, XDS-I), enabling seamless data sharing between different departments and with other medical facilities as well.
This way, you get a more comprehensive perspective of a patient's health status and can make data-driven diagnosis and treatment decisions.
At the same time, IHP complies with privacy policies including the Health Insurance Portability and Accountability Act (HIPAA) to ensure strong data security.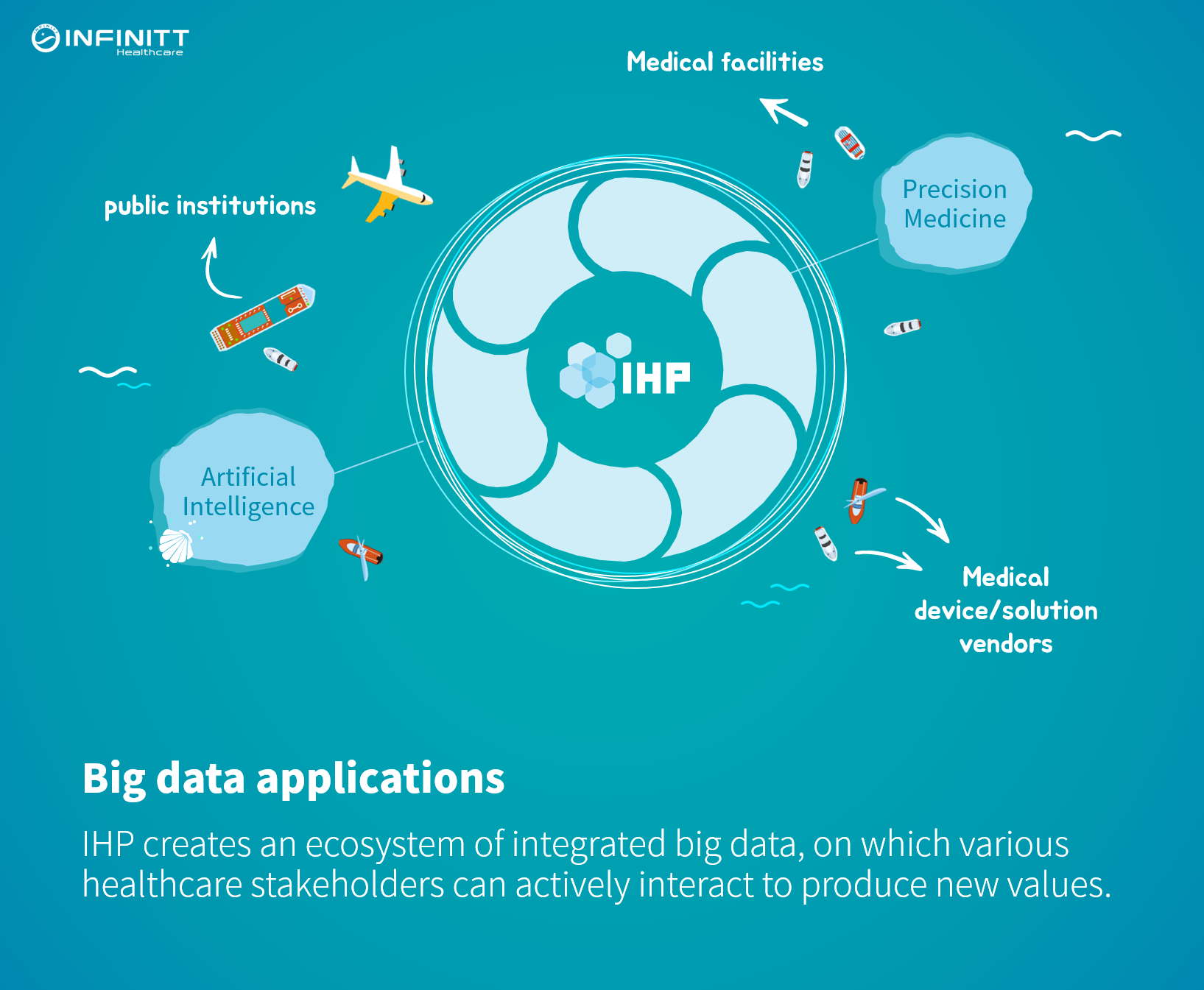 What does an IHP ecosystem look like? Various healthcare stakeholders including medical facilities, public institutions, and medical device/solution vendors all interact based on the medical big data integrated under IHP. They cooperate with each other, incorporating their technologies into the data platform to create new values in the fields of artificial intelligence, precision medicine, population health and more.
Now let's take a look at an example of how different stakeholders successfully leveraged medical big data to reduce the risk of relapse in patients with heart failure.
In the United States, the recurrence rate for heart failure always increases right after holidays like Thanksgiving or Christmas. It's because patients are usually good at managing their diet but tend to lose balance during holidays and end up eating too much high-sodium food, which isn't good for their heart conditions. Patients, medical facilities, public institutions and insurance companies alike had to face high medical costs from relapse of heart failures.
Then, a medical facility in Washington State decided to cooperate with medical schools and IT companies to alleviate the situation using big data*. They started by collecting millions of medical data from patients who agreed to the disclosure and application of their information. And they analyzed the big data to identify specific factors behind the recurrence of heart failures and developed a predictive model for calculating the probability of recurrences. Based on the model, they would conduct additional treatments and monitoring on patients classified as being high-risk. As a result, the recurrence rate of heart failures was significantly reduced compared to before, which ended up reducing the associated costs as well. It's an excellent example of how different stakeholders worked together to solve a problematic situation using medical big data.
*John Burkhardt. "Your Heart is Big Data" UW Tacoma. https://www.tacoma.uw.edu/news/article/your-heart-big-data, Derrick Harris. "How machine learning is saving lives while saving hospitals money" GIGOM. https://gigaom.com/2014/07/14/how-machine-learning-is-saving-lives-while-saving-hospitals-money

INFINITT Healthcare Platform provides you with the foundation for leveraging the data at your hand. So take control and connect with other stakeholders to make positive changes in healthcare that matter to all of us.