INFINITT PACS, INFINITT Consolidated Worklist, INFINITT Distributed Server adopted in 2014-2015… establishing an integrated imaging network within the hospital group
Single point of access to images from main & branch hospitals… enhances image viewing and reading efficiency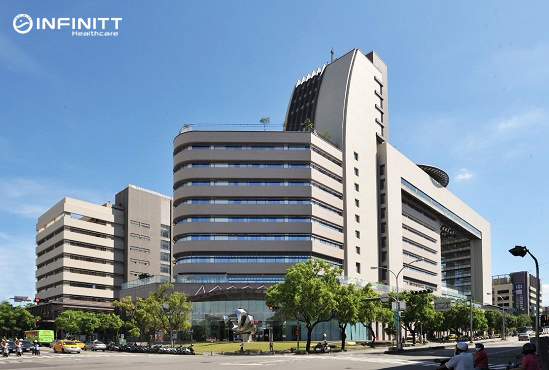 Established in 1980, China Medical University Hospital (CMUH) is the country's fourth largest teaching hospital with international repute, attracting thousands of people from around the region and across the world. CMUH is known worldwide for its advanced patient care, particularly for the treatment of rare, complex disorders in areas such as cardiac care, cancer treatment, neurosurgery, orthopedics, reconstructive plastic surgery, and organ transplants.
CMUH (2,100-bed) has medical staff of more than 700 physicians and other highly-trained medical professionals and more than 1,000 registered nurses. Many physicians at CMUH also hold faculty positions at China Medical University (CMU), one of the top five medical schools in the country. Moreover, the hospital was awarded the Joint Commission International (JCI) accreditation in 2010. In the future, the CMUH medical system, which includes New Taichung Medical City, will be completely established. It will provide the full range of Chinese and Western medical care. CMUH continues to build excellent medical services and education and research systems in Taiwan and beyond. [Excerpts from CMUH's official website]
CMUH has been using INFINITT PACS and INFINITT Mobile Viewer since 2014. INFINITT PACS in CMUH has been upgraded with a Consolidated Worklist (CW) and Distributed Server (DS) in July, 2015. Users in the CMUH system can view images from other branch hospitals in the system efficiently and access other hospitals' server easily.
Below is our interview with Dr. Chen, Yung-Fang (陳永芳, Chief of Radiology Dept.), Dr. Shen, Wu-Chung (沈戊忠, Adviser-Radiologist), and Dr. Lin, Wei-Ching (林維卿, Assistant Radiologist) at the Radiology Department of CMUH on their experience with INFINITT and its PACS.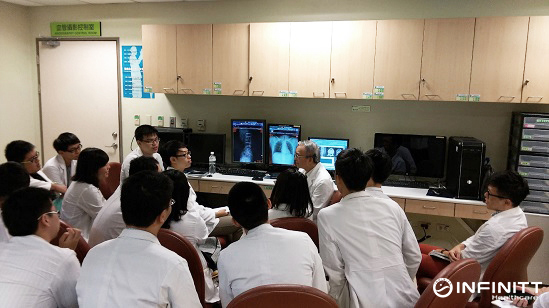 Q: What do you think are the key advantages of INFINITT PACS?
A: [Dr. Shen] I am very satisfied with INFINITT's services, as INFINITT responds to our requests very promptly through its on-site engineers. The UI of INFINITT PACS is designed to be very easily handled and convenient to use. Also, a mobile viewer on which we can see images on tablet devices including iPad adds even more convenience. I think its UI is very intuitive and the product has better quality than other vendors.
A: [Dr. Chen] As INFINITT is always quick to troubleshoot and to respond to our inquiries, we are very satisfied with its services. INFINITT PACS is very convenient in terms of its capabilities, as it enables user configuration in each function, including Layout and Hanging Protocol. Also, for image reading, it shows images over different time periods in multiple layouts, which is very useful. Features including Crosslink and 3D Cursor are also helpful in identifying lesions clearly.
A: [Dr. Lin] We have been using INFINITT's PACS, for more than three years already. First of all, it is very convenient, as each doctor can configure his or her screen settings as well as hot keys. The handiest feature is Crosslink which automatically compares pre- and post- study images of a certain part of a patient in one screen. We can compare a patient's images of before and after cancer treatment as well as images of other patients. Such a feature allows us to easily identify differences in lesions. Moreover, the function to add annotations [Editor's note: "Annotation," a function which marks comments or symbols such as an arrow on an image] and the function to save the image and display it [Editor's note: '"As Show" function] allow us to easily mark annotations and help the radiology department and clinicians communicate more efficiently. They also enable clinicians to find critical parts of images better and save time in their busy schedules. Capabilities such as 3D Imaging, Histogram, and Time-Intensity Curve also increase our work efficiency.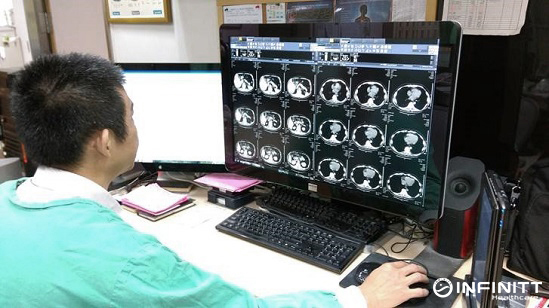 Q: INFINITT has upgraded INFINITT PACS at CMUH recently with a Distributed Server (DS) and Consolidated Worklist (CW). CMUH has now become the first site in the world with a DS and CW under the INFINITT system. What are your expectations on that?
A: [Dr. Shen] Previously, (before the DS and CW upgrade) in order to retrieve images of our branch hospital, we had to access a viewer of the hospital. However, now we can retrieve the images by patient search via the DS and CW, which made things very convenient for us. In addition, the technology takes us one more step closer to achieving our vision—becoming the world's top medical center in Chinese and Western Medicine.
A: [Dr. Chen] Now that the images from all branch hospitals can be integrated through a DS and CW, we can see all images of a patient in a single viewer with patient search. Moreover, we can Crosslink and compare different images. It is very convenient that we don't have to open a separate viewer with the IP address of a branch hospital to see the images of the respective hospital.
A: [Dr. Lin] There are nine branch hospitals in the CMUH system, besides the main hospital. Many patients are transferred from the branch hospitals, and often times we have patients from other hospitals, too. In the past, as we were not able to see images of the branch hospitals, we spent a lot of time searching for and comparing patients' images. We were not even able to know whether a patient had done a test at a branch hospital. However, now that we are able to access the DS and CW of INFINITT PACS and use the patient search function, things turned a lot more convenient. We can now compare images of the main hospital with those of branch hospitals. We expect that our work efficiency will greatly improve.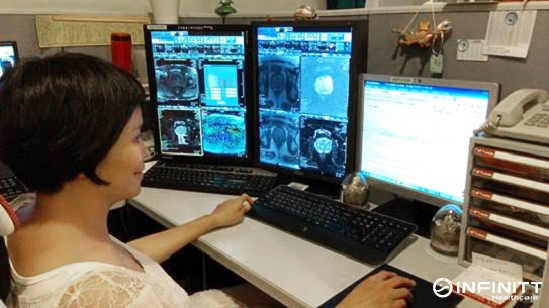 Q: Any comments to INFINTT for future improvement?
A: [Dr. Shen] I wish infinite prosperity of INFINITT. It would be good to see a more convenient mobile viewer application with more capabilities than the present one.
A: [Dr. Chen] We hope we can use even more advanced healthcare imaging technologies by INFINITT in our hospital to help enhance the value of our international medical center.
A: [Dr. Lin] Radiation safety for patients is a very critical issue. I have heard that INFINITT has released a product called DoseM, which monitors patients' radiation exposure. The state of California in the U.S. legally mandated patients' radiation dose exposure monitoring, but we do not have such a regulation here in Taiwan yet. However, globally, radiation exposure through CT exams has increased significantly for the last several years and the issue of radiation safety is gaining more attention than ever. INFINITT's DoseM solution will be able to provide information about radiation safety for each user, and manage radiation dose levels, reducing adverse effects resulting from modern medicine. We have great expectations for INFINITT, to continuously lead the global healthcare IT trend.