SNUH–INFINITT co-developed dose monitoring solution, INFINITT DoseM
Real-time dose monitoring identifies the causes behind exams exceeding DRL and ensures dose optimization in screening protocols
Established as the first national hospital "Gwanghyewon" back in 1885, Seoul National University Hospital (SNUH) is a leading hospital in Korea, highly recognized for its advanced technology and research capacity in medicine. SNUH is a 1,780-bed hospital consisting of the main hospital and branch hospitals such as SNU Children's Hospital and SNU Cancer Center. It serves approximately 1,700 inpatients and 8,600 outpatients and conducts over 4,500 screening exams per day.
The radiology department at SNUH has co-developed a dose monitoring solution, INFINITT DoseM, with INFINITT Healthcare since 2013 and fully adopted it by early 2014. The team holds monthly QA sessions to review and share all dose data acquired through INFINITT DoseM with its members so that they can conduct safer screening exams for their patients.
We met with Professor Chang-Hyun Lee, M.D of the Radiology department, and asked him how SNUH came to adopt INFINITT DoseM and how he's actually using it.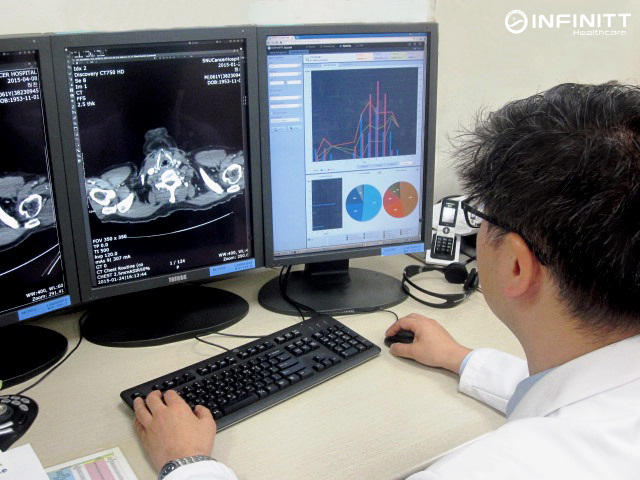 Q. Tell us how SNUH arrived at the decision to adopt a dose monitoring solution.

A: First of all, we had an internal need for a dose monitoring solution that could help us systematically manage a wide range of diagnostic modalities such as CT, MRI, etc. We wanted to control the level of radiation exposures while maintaining optimal image quality. And of course, we wanted to utilize the accumulated dose data for our research as well.
Q. Are patients also interested in dosage levels?

A: Yes, very. In fact, many ask how much dose they're exposed to during screening exams. Family members of pediatric patients particularly have a high demand on the matter. Those coming in for regular employee health check-ups also want to know their annual dosage levels. The public concern over radiation exposures grew, especially in the aftermath of the Japanese nuclear disasters. This was another reason for adopting a dose monitoring solution at SNUH. We wanted to reassure our patients of their safety.
Q. Why did SNUH choose to adopt INFINITT DoseM, among others?

A: Compared with other foreign vendor solutions, INFINITT DoseM is faster and more tailored to the Korean hospital settings. Also, we chose INFINITT DoseM because it could be easily integrated with the PACS we're using, INFINITT PACS.
Q. How do you manage radiation dose using INFNITT DoseM?

A. Rather than looking at dosage level for each patient, we use INFINITT DoseM to manage dosage levels for screening exams/devices. Based on data gathered from monitoring, we select the exam or device type that minimizes the dosage.
Q. What do you think is the most useful feature from INFINITT DoseM?

A. I find the DRL (Diagnostic Reference Levels) notification feature to be very useful. It marks exam results that exceed DRL in different colors and immediately notifies the radiologists in charge. It's extremely useful in finding out why certain exams exceed DRL and in ultimately reducing the patient dosage. The statistics feature that analyzes dosage per exam, per device and per patient is also very helpful. For one, we can improve on our CT protocols by monitoring the dosage deviations for each CT device. Statistics data is useful for research as well.
Q. Any closing comments or expectations you have for INFINITT DoseM?

A. I think it'd be very useful for calculating dosage if INFINITT DoseM could retrieve more of the patient data such as his/her weight from EMR and/or other hospital information systems. I also hope that INFINITT DoseM would evolve into a smarter dose monitoring solution and would be able to differentiate combined codes such as an abdominal-chest CT scan. In fact, I'm currently working on a research study using INFINITT DoseM. I look forward to seeing some very meaningful results.